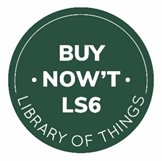 Do you live in LS6?
Would you like to help move forward an exciting new community initiative?
Have you project management skills / experience?
Do you have some time to volunteer to help manage the delivery and development of Buy Nowt LS6 Library of Things?
In October 2021, a group of local residents opened the pay-as-you-feel library, believing that we can deliver a sustainable service by mobilising the resources of local residents and by managing overheads.
Since opening, fantastic local support means that we already have 700 pending memberships and the library offers over 700 donated items.
To deliver and develop the library, we are putting together a Project Management Group. If you would like to find out more then please contact leeingh@gmail.com
Required personal qualities:
A commitment to the Library of Things and the values of BN LS6 CIC
An ability to work as part of a team
The vision to take a long term view and plan for the future of the library
A connection with the locality
What you can expect:
An induction and support from the Board of BN LS6 CIC
Access to volunteer expenses
Thanks and recognition